At ILT, we take a grounded/embodied cognition approach to mental models. This approach says that students reason about systems by being able to visualize and mentally animate entities that interact and affect each other. We see these mental models as representing a deeper level of understanding than we usually get from students. We are currently conducting a series of research projects that examine the learning, understanding, and motivational effectiveness of various ways of providing this grounding/embodiment, using different combinations of technologies
---
M3 is a two-year project granted by the National Science Foundation to investigate the role that mobile technologies can play in STEM learning.  The project is a collaborative effort between Teachers College and New York City public television affiliate WNET-13 and their Emmy award winning program, Cyberchase.  M3 explores the role that gestures play in our conceptual thinking about mathematical fractions.  The goal of the project is to develop a mobile gaming application that utilizes the gestures that best embody our understandings of fractions.
Researchers: Michael Swart, Alison Lee, Ben Friedman
---
This project seeks to answer questions about students' motivations as they move through and learn from games, especially when students are met with challenging situations, or fail states. In school settings failure is perceived as a strongly negative experience, whereas in a game context failure is seen as an acceptable outcome. We hope to dissect and understand the specific cognitive and motivational constructs that are found in game play in order to design learning environments that encourage students to see failure as an opportunity for learning, rather than a marker of limited ability.
Researchers: Laura Malkiewich, Alison Lee, Stefan Slater

---
This project seeks to understand how students transfer knowledge from discovery based, hands on engineering activities to science content assessments. Specifically, we aim to discover how reflection, activity construction, and direct instruction during educational building challenges help students both learn science content, and construct more sophisticated physical structures.

Researcher: Laura Malkiewich
---
The ILT Coding after school program at TCCS focuses on helping K-3 students learn to code by using Scratch Jr. for Kindergarten and 1st grade and Hopscotch for 2nd and 3rd grade. Studies during the fall 2014 semester will include testing the effects of various interventions on students' creativity and problem-solving skills.
Researchers: Marianna Lamnina, Shimin Kai, Jing Zhao,  Woonhee Sung,  Jung-Hyun Ahn, Yaoli Mao, Ning He
---
Many students lack the motivation to pursue STEM oriented courses or careers. Their beliefs about the relations between effort and learning outcomes become barriers to their STEM learning. Thus, when students struggle in STEM classes, they perceive this as a sign that they are not smart enough to be good in STEM and will never succeed at it. We tackle these beliefs and attitudes by exposing high school students to scientists' struggling stories, reminding students that even the greatest scientists experience struggle and difficulty. Our ongoing work investigates how different types of scientists' struggling stories affect students' beliefs about their own STEM learning ability and students' actual STEM performance.
Principal Investigator: Xiaodong Lin
Postdoctoral Project Manager: Kristen Elmore
Researchers: Marianna Lamnina, Danfei Hu, Fu-Fen Fang, Shuzi Meng, Zhong Qi Shi, Yaena Song, John Park, Kendra Whitfield, Hyojin Kim, Myra Luna-Lucero
---
The project goal is to investigate whether developing a more robust, complete, accurate, and grounded (i.e. taught by means of concrete illustrations of human behavior) mental model of the human emotion system leads to enhancements in social emotional skills in middle-school-aged children.
Researchers: Ilya Lyashevsky, Melissa Cesarano
---
How can multimodal e-texts support science learning and text comprehension?
SciMod3 is a research study that investigates how the use of a tablet, multimedia interface can impact and improve science text and graphic comprehension. Through the use of an eye-tracker and other research methodologies, we hope to discover how an expository text comprehension multimedia intervention can be developed for at-risk learners during their critical literacy period in the 4th grade, commonly referred to as the "fourth-grade slump".
Researchers: Ben Friedman, Alison Lee, Lenin Compres
---
This project will develop a computer-based Invention Tutor to guide students through the challenging and messy process of Invention. The Invention Tutor will simulate the guidance of a well-trained inquiry teacher, who asks critical questions and gives feedback just at the right time, to push students' thinking forward. This work will take us one step closer to scaling up a successful instructional technique, with the ultimate goal of enhancing deep learning and transfer in science domains, for both high and low-achieving student populations. The research will identify effective forms of support for Invention tasks and expand our understanding of the Invention process itself. More generally, findings may inform the field's understanding of the process of discovery and how best to guide it. 
Principal Investigator: Catherine Chase
Researchers: Jenna Marks, Julia Xing, Colleen Uscianowski
---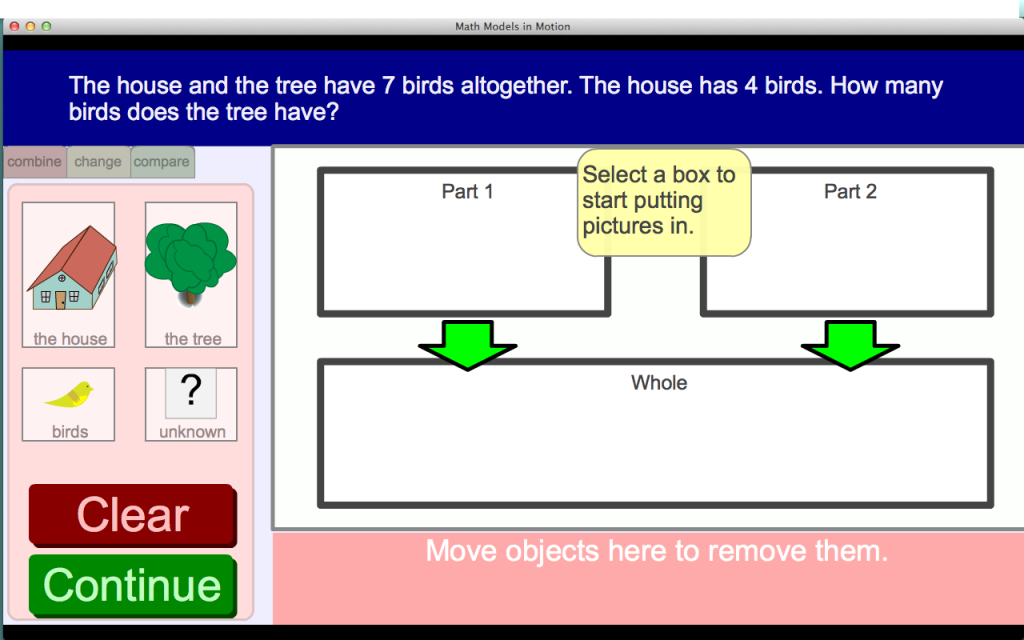 Math Models in Motion seeks to improve student's mathematical problem solving abilities by having students create and manipulate visual representations that match underlying problem schemas such as change, combination, and comparison situations. This project also seeks to discover how computer environments can best be designed to aid problem solving by exploring what virtual manipulatives should look like, how visual representations should be manipulated, and how prompts and feedback can aid students in applying problem solving strategies.
Researchers: Ben Friedman
---
This ongoing project examines how surrogate embodiment and avatar role-play in virtual learning environments (including the MUVEs, Second Life and OpenSim) can be used to facilitate learning and motivation of learners of all ages across a wide range of domains.
---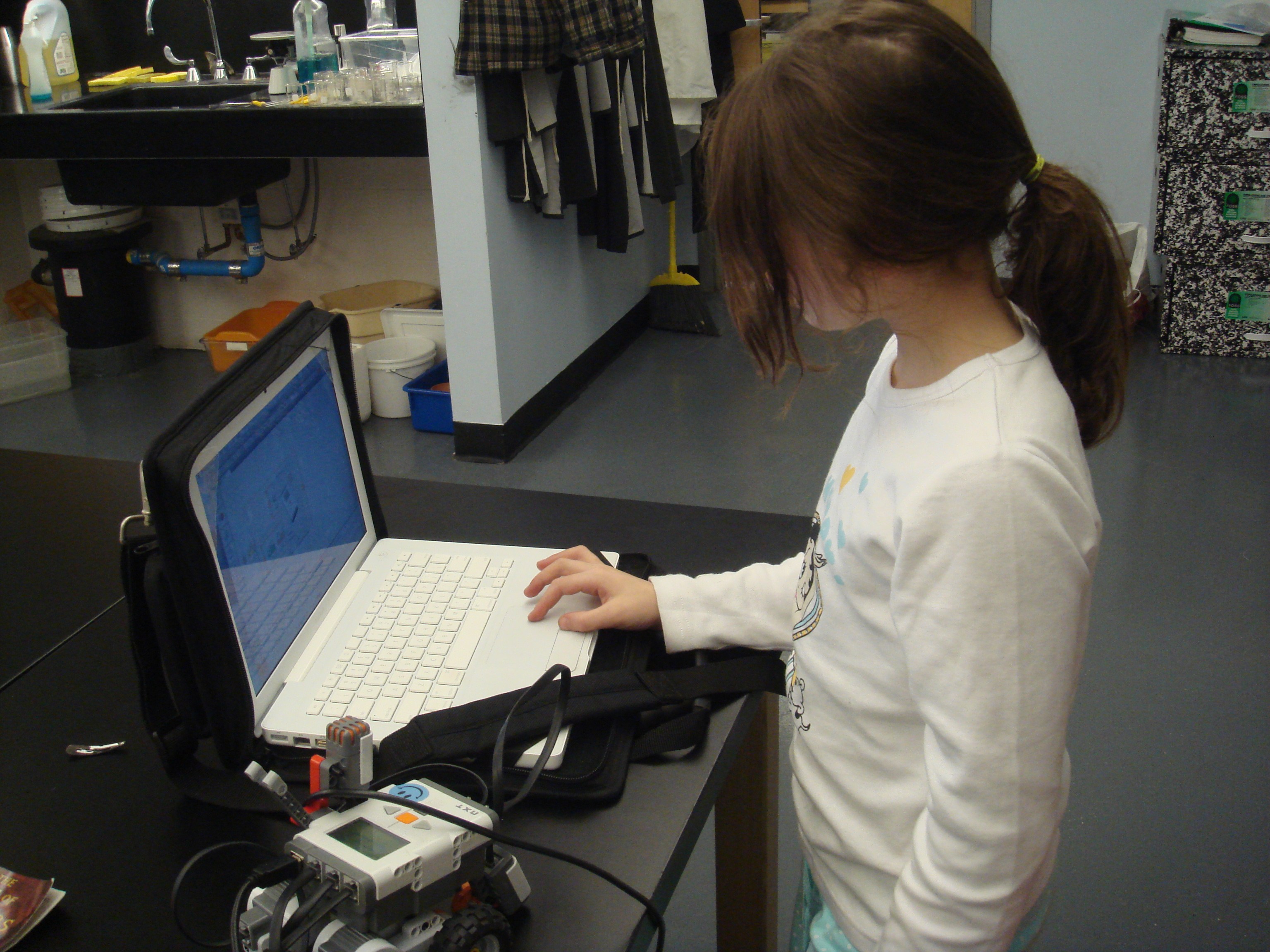 This project examines how learning, understanding, and motivation develop when students move their own bodies and then program robots to perform related movements, so that learning progresses from personal embodiment to embodiment through robot surrogates. In a series of experimental studies, student learning and understanding of programming, science, and math using this embodied experience are compared with learning without the embodied experience. The project is being conducted in Harlem schools participating in TC's Harlem Ivy after-school program.
Researchers: Carol Lu
---
Gesture is a powerful tool for thinking and learning.  This project has three aims: (1) to document how individuals on their own use gestures differently to learn about visual representations. (2) to investigate how those gestures and techniques could be translated into gesture design on mobile devices and classroom instruction (3) to investigate a possible mechanism how those gestures and movements promote students learning and understanding of abstract representation in science. The first phase is to investigate how using of gesture promotes learning of 3-D molecule structure in college level stereochemistry.
Researcher: Jing Zhao, Yaoli Mao
---

GeoGames is a set of digital activities for elementary school students that are based on research into children's conceptions of the world and are designed to help with geography concepts and mapping skills. In playing GeoGames, students build a globe, layer by layer, in an online environment. They first build Planet Earth, adding the North and South poles, continents, mountains and rivers. They can then add political entities' ountries and their major cities. And finally, they can map journeys. These components can be used separately or together, and in any order, depending on the teacher's goals and the students' needs. The built globe also appears, and can be printed, as a flat map, helping students understand map projections.
GeoGames is being developed in collaboration with Reach the World, a not-for-profit foundation that offers professional development to teachers in New York City public schools.
Funded by a grant from the National Geographic Education Fund
Project Director: Susan Lowes